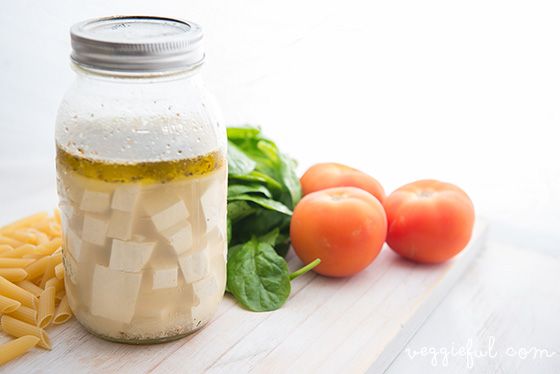 Yum yum yum is all I can say about this amazing recipe. I had been wanting to create a vegan feta recipe for a while and am so glad that it ended up tasting so crazily delicious! Now, if you can be patient, letting it marinate for 2 days will give you the best results. The 2 days of marinating will allow the tofu to really soak up the yumminess and to change consistency from a spongy tofu to a relatively crumbly and soft feta style of tofu. Jerome and I absolutely love it! We have used it in salads and in pastas so far. Let me know of any other ways that you use it as I am so excited to keep this in the fridge. Hope you love it as much as we do!
375g extra-firm tofu, pressed and drained and cut into small cubes
1/2 cup apple cider vinegar
Add all ingredients to a large jar and stir/shake until combined.

Make sure the liquid completely covers the tofu.

Refrigerate for 1 to 2 days until needed. I find that 2 days is the best!

Enjoy!
I know that it seems excessive to have to refrigerate this for 1 to 2 days... however, after 2 days, the tofu becomes crumbly and really soaks up the delicious flavours. You will LOVE it!

To make the tofu soak up the goodness even more, try crumbling the tofu in the jar instead of cutting into cubes.