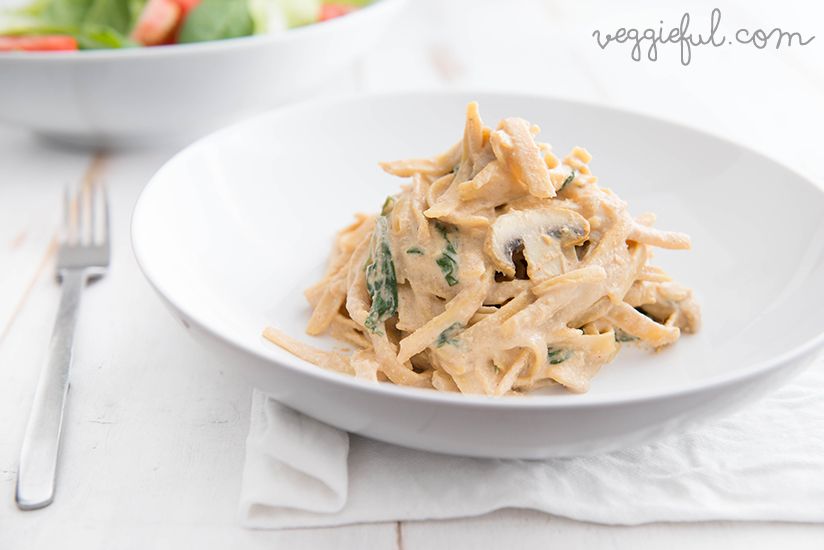 For some reason when I was eating this amazing pasta, I kept singing in my head "A is for alfredo, that's good enough for me... oh alfredo alfredo alfredo starts with A" just like the Sesame Street song "C is for Cookie". Now, you may be asking yourself "Why do I follow this crazy lady? All of the delicious vegan food is going straight to her brain!"... well, I would have to agree with you that scrumptious vegan food makes me do silly things because it is so damn good! For instance, I know when I really really really love a recipe because I sing out loud or in my head while I am eating it... Jerome on the other hand does a little dance and repeatedly says 'oh my gosh this so good... this is 10/10" etc... My mum eats in dead silence and eats incredibly fast as she enjoys her tasty meal. On the subject of my mum, I actually based this recipe on a pasta dish she made for me not too long ago. I visited her with Mia (our four month old) and she made me the most incredible creamy pasta dish... I actually ate 3 bowls of it with salad! As I was driving home, I told Mia that our goal for this week was to re-create it and publish it for our lovely Veggieful followers... and we did! So here it is, our amazing vegan alfredo pasta. I know you will love it! Serve with a fresh salad with a zesty acidic dressing.
serves 4 to 6
1 tablespoon oil of choice
1 tablespoon dijon mustard
BIG pinch freshly cracked black pepper
1 tablespoon fresh lemon juice
1 teaspoon smoked paprika
3 handfuls baby spinach
Make the alfredo sauce:

In a blender or food processor, add the soy milk, cashews, nutritional yeast, mustard, salt, pepper, garlic, lemon juice, tahini and smoked paprika and blend until smooth and creamy. Set aside.

Start cooking the pasta according to packet instructions.

In a fry pan on high heat, add the oil and onion and sauté until transparent.

Add in the sliced mushrooms and sauté until they have wilted.

Pour in the alfredo sauce and stir until combined.

Use tongs to remove the pasta from the water and transfer directly to the fry pan. Allow it to transfer some of the hot starchy water with it which will help to thin out the sauce.

Add the baby spinach to the fry pan and stir until the sauce has heated through and the baby spinach has wilted.

Serve immediately with extra salt and pepper and a nice big salad.

Enjoy!
Tastes even better the next day!
The nutrition information above is an approximate guideline. Each serving of our delicious vegan alfredo pasta is high in niacin, phosphorous, ribolfavin, thiamin and vitamin B6. One serving of our pasta includes a whopping 48% of your RDI of iron! Wowee.
Our lovely Mia is already 4 months old! We can't believe it. She is our little vegan bundle of cuteness and chubbiness hehe.