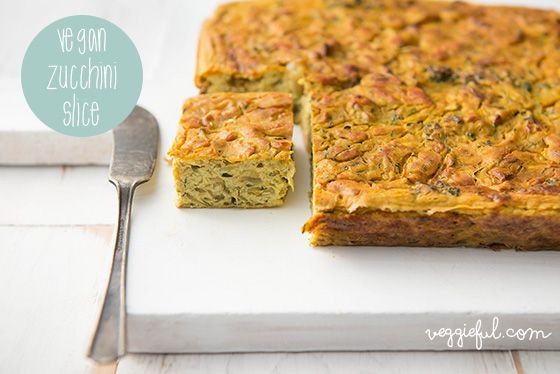 serves: 12
drizzle olive oil
1 onion, diced
1 garlic clove, crushed
500g zucchini, grated
1 big handful roughly torn kale leaves
2 teaspoons curry powder
big pinch salt
big pinch black pepper
350g extra firm tofu
200ml Plant Based Milk such as Soy Milky Lite
1 tablespoon nutritional yeast
2 tablespoons flour
2 teaspoons dijon mustard
Preheat your oven to a moderate temperature at approximately 180 degrees Celsius.
In a fry pan on medium to high heat, add the oil and onion and sauté until transparent.
Wrap the grated zucchini in a cloth and squeeze hard to discard the excess liquid.
Add in the garlic, kale and grated zucchini, season with salt and pepper and sauté until the zucchini has softened. Remove from the heat and set aside.
In a food processor, add the curry powder, salt, pepper, tofu, soy milk, nutritional yeast, flour and mustard and blend until smooth.
Spray a 25cm x 25cm baking tin.
Combine the creamy mixture from the processor and the zucchini mixture and pour it into the tin.
Bake for 50 minutes to 1 hour until lightly browned on top and a skewer comes out clean.
Allow to cool and put in the fridge until needed. Serve cool for lunch or at a tea party!
Enjoy your zucchiniliciousness!